Paul Precht Energy Economics Ltd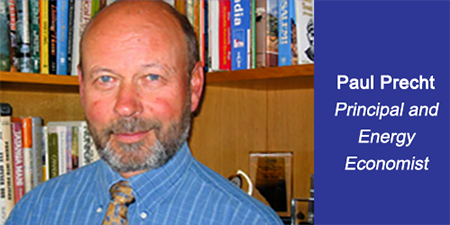 Paul Precht Energy Economics (P2) is a Canadian consultancy in energy economics working at the intersection between governmental energy policy makers and the private oil and gas industry.
It seeks to foster resource development by:
1. Assisting government clients in establishing energy policies, resource management structures and regulatory frameworks that will promote and protect the public interest.
2. Assisting companies developing energy resources to work efficiently and effectively within good resource development policies and frameworks.
Contact Paul Precht Energy Economics Ltd
Office: 780-437-7587
Cell: 780-718-3700
Email: precht@nrgeconomics.com
About Paul Precht
Paul Precht, founder of Paul Precht Energy Economics Ltd, is a Canadian-based energy economist, with over 35 years of experience in government, consulting and teaching. Paul has a Bachelor of Arts Degree in Economics and Political Science, and a Master of Arts Degree in Economics, from the University of Alberta.
Paul's experience, including over 20 years with Alberta Energy, provides a solid foundation for the work of Paul Precht Energy Economics Ltd, with highlights that include:
First Executive Director of Oil Sands and Upgrading in Alberta Department of Energy
Executive Director, Markets and Regulatory Policy
Key Alberta representative on National Task Force on Oil Sands Strategies
Co-Chair of Canada-Alberta Partnership on Minerals
Acting Assistant Deputy Minister, Sustainable Energy Development
Secondment to Petro-Canada International Assistance Corporation as Economic Advisor to the Minister of Energy and the national oil company of Tanzania.
Paul Precht Energy Economics Ltd, the company he founded in 2000, is a consultancy focusing on energy economics.
It specializes in the application of economic analysis and policy analysis to energy management and development issues, in Canada and internationally. The company works both independently and as a member of consortia and teams. As a consultant, Paul has worked in many jurisdictions in Canada as well as internationally in Latin America, Africa and Asia. His work extends to:
Energy Policies
Energy Fiscal Frameworks
Energy Legal and Regulatory Frameworks
Energy Development Analyses and Training
A small sampling of some highlights from Paul's consulting work include:
Conducting a comprehensive review of Canada's Frontier Lands Petroleum Royalty Regulation, including stakeholder consultation, issue identification and analysis, drafting of regulatory amendments.
Preparing draft Framework Regulations for Canada's National Energy Board under the Frontier and Offshore Regulatory Review Initiative.
This project included amalgamating 4 regulations relating to oil and gas exploration and development, converting all language to a goal-oriented approach and identifying and addressing gaps and issues. Paul served as contract manager and principal drafter for a team of 7 policy and technical experts.
With a colleague, preparing comprehensive economic models of
Alberta's oil sands industry to allow the Government of Alberta to evaluate the potential for taking its bitumen royalty in kind
the Mackenzie Gas Project, including field development, gathering, processing and transmission, for the Government of Canada.
Working with an engineer and geologist, preparing a number of economic models of potential gas development plays for Government of Yukon.
Preparing draft regulations for managing and regulating oil and gas exploration and development activities for a number of Canadian jurisdictions, including Yukon, Nova Scotia, New Brunswick and Newfoundland & Labrador. Often working with a team of technical experts on these projects, and usually serving as contract manager.
Working on gas development strategies and gas pricing issues in regions with stranded or underdeveloped gas resources in Africa and South America.
Providing analysis and advice on structuring of Production Sharing Agreements, especially in Africa.
Working with First Nations in western and northern Canada on oil and gas developments and associated issues.
Servicing as expert witness before
The Federal Court of Canada on oil and gas taxation issues, and
A Specific Claims Tribunal on First Nation oil and gas issues.
Working internationally in Central America, South America, Africa and Asia, including working directly for the World Bank, the International Monetary Fund, the Commonwealth Secretariat and the African Development Bank.
For more information on the nature of his work and how he can assist you in issues you are facing, please contact Paul directly.
What Paul is Reading
I am an avid reader. For a number of years I sought to share about some of what I was reading on my website, posting book reviews that might prompt others to pick these books up. While I continue to read, I have found in recent years that I have not been as motivated to write and post reviews.
The result was that my website included a number of reviews of books that were somewhat dated, to the point it was becoming a bit of an embarrassment to me. So I have decided to delete these book reviews and replace them with something briefer and more current, which I shall seek to update periodically.
Following are some books I have recently read, with some brief annotations and in no particular order. If you live in Edmonton vicinity, I'd be happy to get together to discuss. I may even lend you my copy.
I tend to buy hard copies, maybe because that's just what I'm used to and most comfortable with. Don't hesitate to get in touch.